Trade Fair Overview

A trade fair such as SIAL is the most appropriate place to explore, discuss, sense, anticipate and adapt to the fast changing markets. Since the daily economic instability requires considerable agility, SIAL enables face-to-face contact for high-performing companies to react to such changes. The global food market adapts to the growth of the emerging nations but the European market, with its 310,000 companies and 4.8 million employees, maintains a steady course. Its companies are stimulated by innovation and develop new products to grow and attract consumers from all over the world.
From one show to the next, SIAL has become an effective business arena and a place to anticipate and highlight innovation, to interpret the trends and initiate new food fashions. SIAL reflects the perpetual change evident in the food markets.
DagangHalal was on site to meet with buyers and suppliers, as well as to promote Halal products and services in SIAL which is the world's largest food innovation marketplace. This trade fair was held on 21st - 25th October 2012 at Paris Nord Villepinte, France.
Key Activities:
- B2B Business Matching
- Global Halal Network Program
- Merchant Products Showcase
- Market Trending Survey
- e-Magazine Media Coverage

Exhibitors:
- 5,900 exhibitors (French and International exhibitors)
- 100 countries represented
- Merchant Products Showcase

Attendance:
- 150,192 professional visitors attends
- 62.8% were International visitors
- 10.2% increased of attendance compared with 2010
- 200 countries involved

DagangHalal Booth Activity
DagangHalal occupied a 3m x 3m booth at Hall 2, 2 N 001 B (Media Area). Our booth was located just next to the entrance of Hall 2 and all the visitors who came in to the hall would be able to see our booth immediately. The marketing kits and magazine were setup and displayed nicely at the booth to allow the visitors to understand about our service and solution. We also conducted the demonstration of All-in-one e-Commerce Solution for Halal industry to assist the SME expanding their Global Halal Business quickly with a cost effective package from the range of USD200 to USD5,000.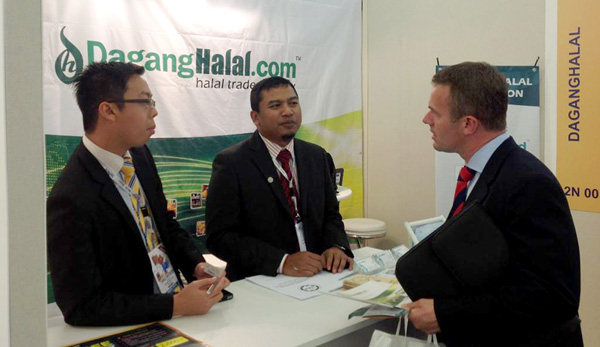 Business discussion with Mr. David Laach,Export Directorof Unilever UK & Ireland Export.
Merchant Products Showcase
This year, actual products from our merchant were showcased in our booth to attract buyers through the five days event. Our merchant's product successfully sparked the interest of buyers at the trade fair, such as Seafood Tofu and Fish Sandwich from QL Food Sdn Bhd. We manage to get Buying Request details information from the buyers and our merchant received the information instantly through Halal Trade Manager trading management tool.
Market Trending Survey
We were pleased to have the opportunity to interview with the Business Unit Director of Comexposium, Ms. Olivia Milan Grosbois to know about the trending of current Food and Beverages Industry compared to the last decade. SIAL Innovation played an important role to identify the new products to the market. Based on those research, the winner products in SIAL Innovation were measured based on the certain axis to predict the trending of the market.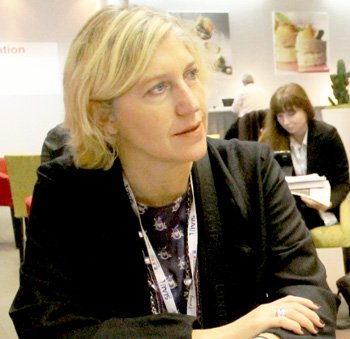 Interview session with Ms. Olivia Milan Grosbois.

SIAL Innovation Product Showcase.
Below will be the trends interpreted for SIAL Innovation by XTC for better understanding of the food innovation supply and demand process.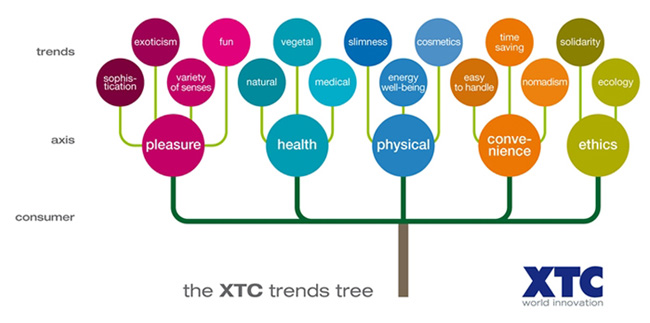 e-Magazine Media Coverage
More than 30 exhibitors were selected for the interview during the SIAL Paris 2012. From the interview, we found out a lot of new information about the market trend in Europe countries and new technologies to improve the production. Those information were compiled to an A4 Full Colour magazine with 72 pages. It is now available to order online with door-to-door delivery or can be downloaded for FREE.