Trade Fair Overview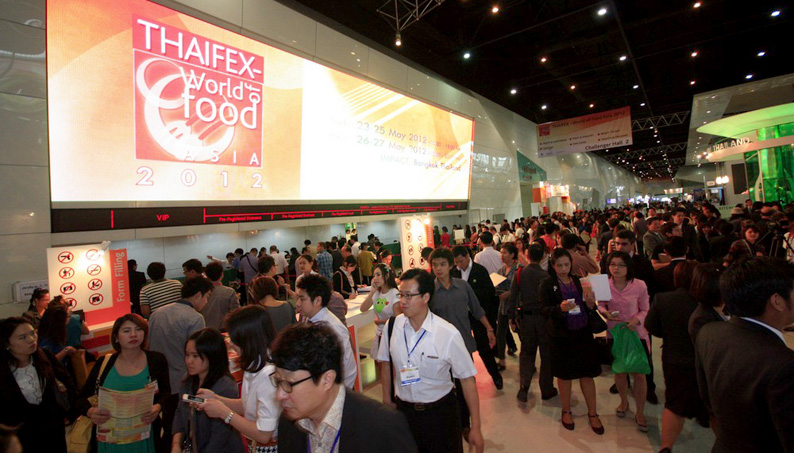 THAIFEX - World of Food Asia 2012 concluded with a flourish today after recording an unprecedented 25,270 in visitor numbers. Showcasing the best in the culinary trade, the ninth edition of the premier sourcing platform for food and hospitality trade buyers reaffirmed its position as one of the leaders in Asia Pacific's food and hospitality industries, with an extensive showcase from 1,104 exhibitors. The show was held on 23 - 27 May 2012, IMPACT Exhibition Center, Bangkok, Thailand.
The total value of immediate sales orders made in this year's edition of THAIFEX - World of Food Asia came close to US$134 million dollars throughout the three days of the trade fair, while the projected value of sales orders within the year is expected to value over US$3 billion dollars. 28 countries, including Bangladesh, China, France, Hong Kong, India, Indonesia, Japan, Malaysia, Philippines, Singapore, Taiwan, Turkey and Vietnam were represented on the trade floor at THAIFEX - World of Food Asia this year. This is a rise of close to 10 percent from the year before, underscoring the event's growing influence in the region
THAIFEX 2012 - World of Halal provided an excellent opportunity for us to introduce our Halal products and services to the wider Southeast Asian market. This is our first time exhibiting here and the visitor turnout was notable. The chance to meet with various business representatives including, those from Taiwan and Korea, allowed us to make new contacts and further our goals in establishing our brand in this region.
THAIFEX - World of Food Asia 2012 also played host to the highly successful Halal Food Seminar, which was rich with insights from key players in the Halal food industry. Sponsored by Agilent Technologies and Abbott Nutrition, the event brought together the region's best in the Halal food business. The well-attended seminar shared how businesses should adapt to benefit from the growing Halal market, as well as tips on addressing the key challenges and issues of the Halal food industry in this region.
Seventy participants from countries such as China, Japan, Philippines, Qatar, U.K. and the U.S. rubbed shoulders with leading experts in the Halal food sector, including Fadzhairi Abd Jabar, Head, TPM Biotech Sdn Bhd, Mohd Muslimin Bin Hashim, Manager, Science and Environment Division, Malaysian Palm Oil Council and Shahlan Hairalah, Chief Executive Officer, Sahl International Pte Ltd.
Key Activities:
- B2B Business Matching
- Global Halal Network Program
- Merchant Products Showcase
- Market Trending Survey

Exhibitors:
- 1,104 exhibitors (566 Thailand and 538 International exhibitors)
- 28 countries represented

Attendance:
- 25, 270 trade visitors attends
- 1,160 top buyers from 50 counties invited by Department of International Trade Promotion Thailand
- 5,591 were International visitors
- 19,679 were local visitors
- 8% increased of attendance compared with 2011
- 119 countries involved

DagangHalal Booth Activity
DagangHalal occupied a 3m x 3m booth at Challenger Hall 1, 1RR-18. Our booth was located in the World of Halal section which perfectly fit our nature of business. The marketing kits and magazine were setup and displayed nicely at the booth to allow the visitors to understand about our service and solution. We also conducted the demonstration of All-in-one e-Commerce Solution for Halal industry to assist the SME expanding their Global Halal Business quickly with a cost effective package from the range of USD200 to USD5,000.
Business discussion with Mr. Abdul Rashid, Precious Health Product from Singapore.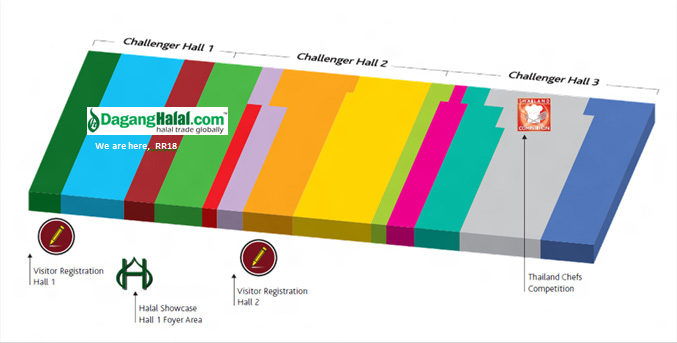 Merchant Products Showcase
This year, actual products from our merchant were showcased in our booth to attract buyers through the five days event. Our merchant's product successfully sparked the interest of buyers at the trade fair, such as Milky Moo Moo Biscuit from Lee Biscuits (Pte) Ltd. We manage to get Buying Request details information from the buyers and our merchant received the information instantly through Halal Trade Manager trading management tool. At the same time, we were building the relationship with The Central Islamic Committee of Thailand (CICOT) to further enhance the collaboration to increase the transactions of the Halal products produced in Thailand.