Trade Fair Overview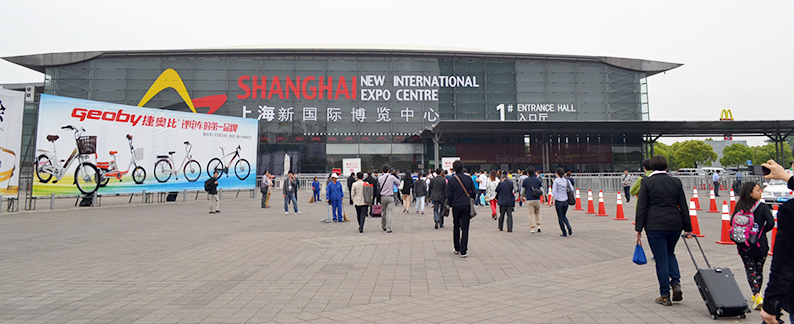 Asia's largest annual Food & Beverage show which take place again on 7th - 9th May 2013 at Shanghai New International Expo Centre! The 3-days exhibition exceeded itself to a new high professional level. It's SIAL CHINA's commitment to reveal food innovation in Asia.
SIAL CHINA 2013 has given exhibitors and visitors nothing less than a professional supreme quality B2B platform for Food & Beverage industry in Asia.
Turkey is the Guest Country of Honour in SIAL CHINA 2013. After a big success in 2012 Turkey pavilion decided to continue their expansion in terms of exhibition space and events participation, a much huge increase will be expected; SOPEXA-one of the most important partners of SIAL CHINA will host exclusive Mediterranean catering show at La Cuisine by SIAL area; also don't forget to discover the tremendous Top Celebrity Chef cooking demonstrations presented by Disciples Escoffier International.
SIAL CHINA 2013 revealed business opportunities in Food & Beverage industry and also food innovations in Asia. While many have made their greatest career comeback this year with the unbreakable spirits, SIAL CHINA prepares for its own next 2014. It's going to be the best in the highest form of professional Food & Beverage exhibition yet.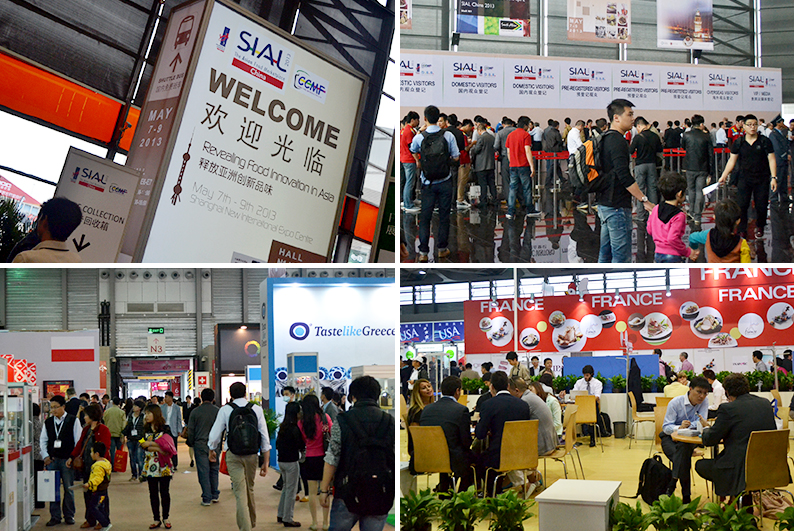 SIAL China 2013 receives positive feedback from all the exhibitors, it suggests nothing less than qualified B2B visitors.
Facts & Figures:


2,157 exhibitors (+13% vs 2012) from 79 countries and regions


85,000 sqm exhibition space (+16% vs 2012)


41,304 visitors


47 international pavilions


7 exhibition halls (+1 extra exhibition hall vs 2012)
DagangHalal Role:


Official media partner for SIAL China 2013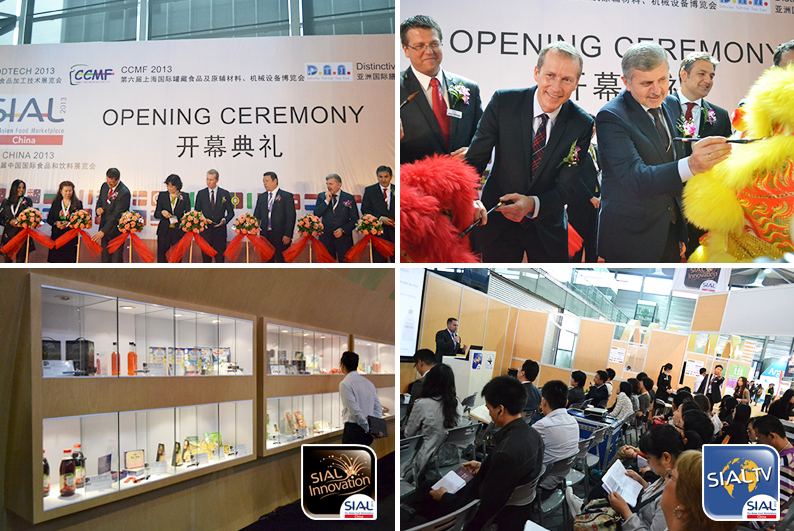 Some event highlights during SIAL China 2013.
DagangHalal Booth Activity
DagangHalal occupied a 9 m2 booth at N1, G 020 (International Media Area). Our booth was located at the middle of Hall N1 together with other international media partners such as Asia Pacific Food Industry, Food Supplies to Russian Federation and many other media from Korea, Japan and Taiwan.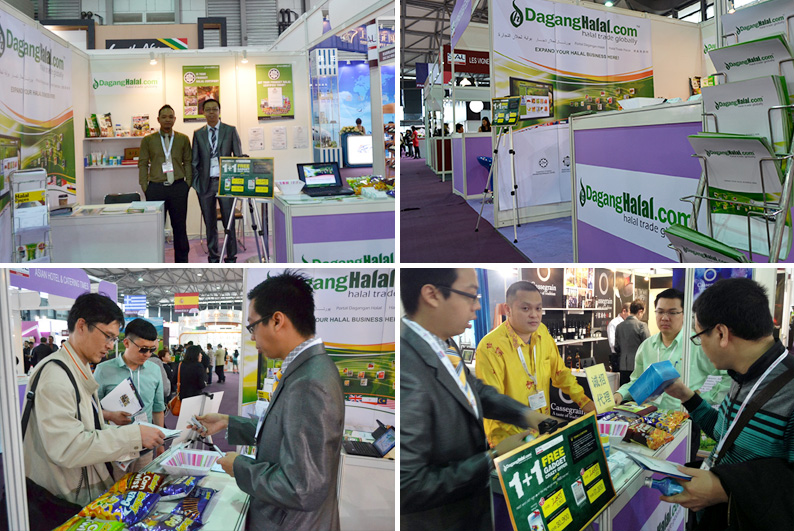 Activities happened at DagangHalal booth in the International Media area during SIAL China 2013.
Key Activities:


B2B Business Matching


Merchant Products Showcase at Booth N1 G020 (International Media Pavilion)


DagangHalal All-in-One e-Commerce Demonstration & Presentation using DagangPay


DagangHalal Merchant Selling Promotion


Media Coverage for SIAL TV during SIAL China 2013
The booth is setup and displayed our merchants' products nicely at the booth to allow the buyers and visitors to touch and feel the products before posting in the buying request form. For other 13,000+ products, the buyers are invited to visit Daganghalal.com (Daganghalal introduction brochures are given to all trade visitors to encourage product sourcing in Daganghalal.com). For trade buyers that are also sellers and interested to Daganghalal.com services, a short presentation and demonstration is conducted for merchant subscription and All-in-one e-Commerce merchant Solution. The merchant packages are selling at a promotion price from the RMB1,300 to RMB15,800.
A total of 115 serious buying request for DagangHalal merchants' products by the trade buyers were conducted during the 3 days trade fair. All standard buying request will be input into Halal Trade Manager and channel to the respective merchants in Daganghalal.com while the specific buying request will reach the respective merchants directly (Gold e-Commerce merchants). For this SIAL China 2013, DagangHalal provided a special service to Gold e-Commerce merchant where their physical products are showcase in the booth with all necessary information such as price list, payment and logistic terms. There was also product sampling (snack food from Rockey Food) for the trade visitors food taste testing.
On the spot DagangHalal new Merchant Sign-up
New DagangHalal international merchant signed up during SIAL China 2013
Gold Merchant Products Showcase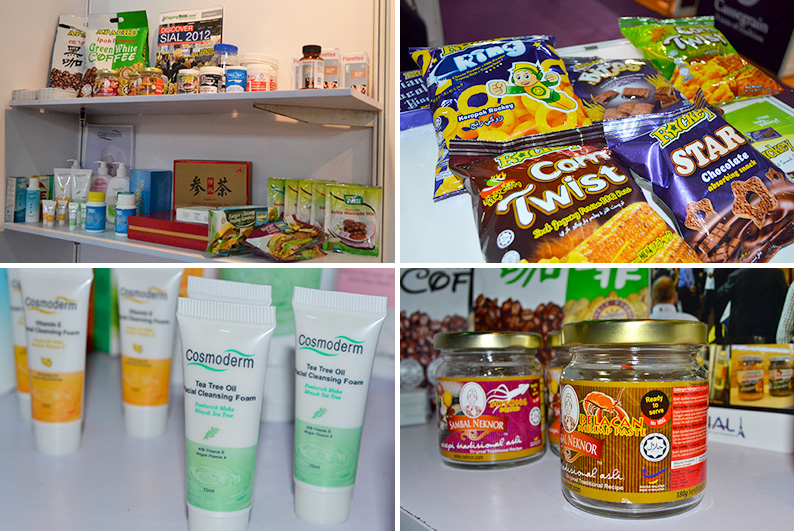 Buyers that are looking for Halal products inside DagangHalal Product Showcase booth
In SIAL China 2013, total of ten Gold Merchants were showcased in our booth to attract buyers through the three days fair. Our Gold Merchant's product successfully gained the interest of buyers at the trade fair, such as Rockey Food Industry Sdn Bhd, CCM Berhad and Glow-San Sdn Bhd. We managed to get Buying Request details information from SIAL China trade buyers for the offline business matching.