Trade Fair Overview
The THAIFEX World of Food Asia 2013 exhibition is a spectacular food exhibition that focuses on Agro Food Products. It was held at Impact Exhibition and Convention Centre from 22nd to 26th May and it attracted large numbers of exhibitors from 125 countries.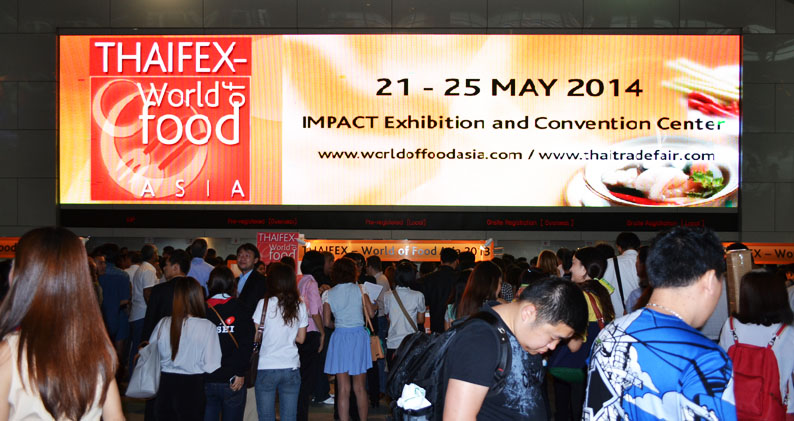 THAIFEX 2013 - Main Entrance.
Additionally, more than 1,100 leading companies shared their ideas and innovation during the event. This influential exhibition concluded with a flourish as it reported a total of 27,361 visitors and 3,100 booths. The success of the event was evident from its record breaking numbers and the 5.65 per cent growth from the previous year.
THAIFEX 2013 showcased the best in the food and hospitality trade, therefore, affirming its position as a leader in Asia Pacific's culinary industry. The event saw to it that exhibitors and visitors had unique sponsorship and networking opportunities.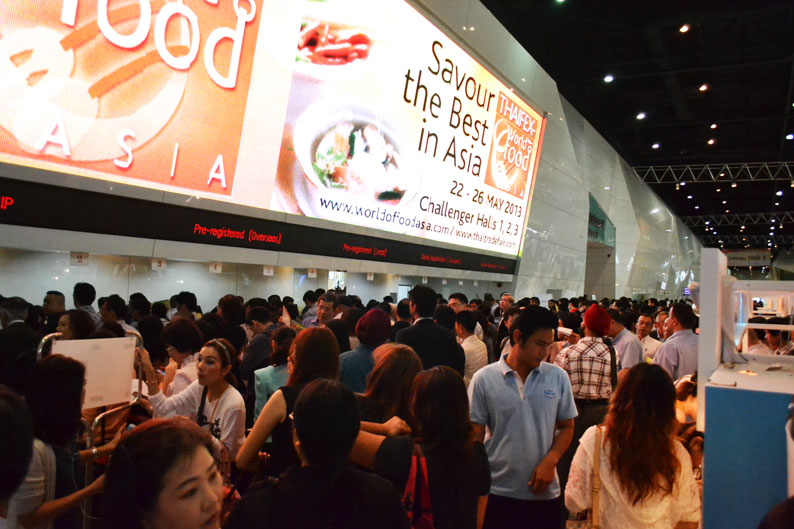 Opening ceremony, trade visitors queue to register themselves during THAIFEX 2013.
Exhibitors:


1,100 exhibitors (Thailand and International exhibitors).


28 countries represented.
Attendance:


27,361 buyers (21,326 local visitors and 6,035 from overseas).


Growth of 15% from the previous year.


Estimated spot sales of USD$15 million.


93,667 visitors, increase of 3.05% from 2012.


Income of trade value was over 320 million USD.


125 countries involved.
It garnered praise for its high quality of overseas and local buyers, and it generated a trading value of more than 320 million USD. The event boosted opportunities for expansion of thriving food exports in Thai.
A new segment called the World of Seafood made its debut with much fanfare during the exhibition. This segment catered to the frozen seafood and seafood industry, and it occupied more than 3,500 sqm, with new groups from Taiwan, China and Korea.
The event saw the inaugural alliance with Italy that brought over 67 Italian companies that occupied 612 sqm. Partnerships with various countries doubled the participation in THAIFEX World of Food Asia and this led to an increase in the exhibition area, from 51,475 sqm to 55,000 sqm.
The THAIFEX World of Food Asia international trade exhibition provided an excellent opportunity for participants to meet with top experts in the Halal food industry. The 10th edition of THAIFEX witnessed a growth of events where a large variety of sea foods, Halal Foods, franchise and retail options, catering services as well as advanced food technology solutions were showcased.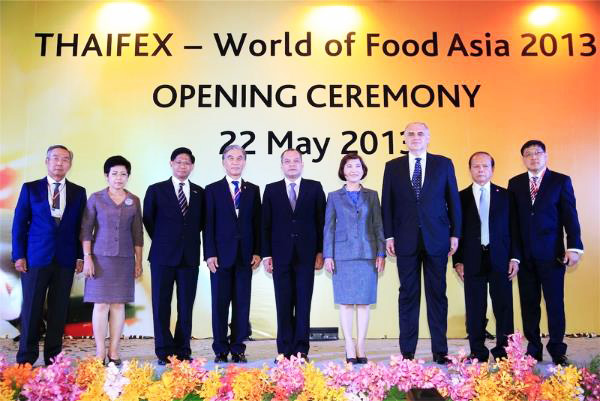 Opening ceremony of THAIFEX 2013- World of Food Asia 2013.
DagangHalal was one of the official media partner for the event and partner of The Central Islamic Committee of Thailand (CICOT). It was required to promote Halal exhibitors who took part in the trade fair. DagangHalal had to come up with an e-magazine that highlighted the Halal food and beverage segment during THAIFEX 2013. The e-magazine would feature manufacturers that had the most innovative Halal products.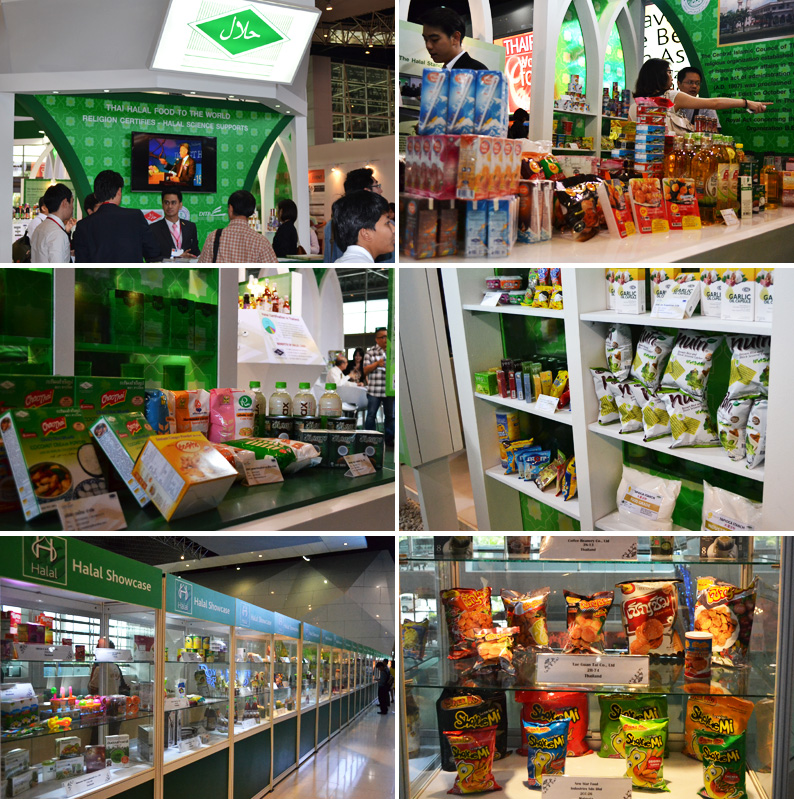 The Central Islamic Committee of Thailand (CICOT) Pavillion at the main entrance of THAIFEX 2013.
Event Highlights:


Thailand Ultimate Chef Challenge 2013.

Roasters' Choice Award 2013.
More info on
DagangHalal Booth Activities At THAIFEX 2013