Trade Fair Overview
SIAL China is known as the leading Asian meeting point for the food and beverage industry. For SIAL China 2015, theme had been set as Connecting Asian Markets with Energy. This trade fair had been held at Shanghai New International Expo Centre Hall from 6th to 8th May 2015.

For the past 15th years of establishment, the quality shown in this SIAL China 2015 has attracted 61,296 professional visitors from all over the world. There are about 2,734 companies from 62 countries which had been taking part to showcase their products and provide services for this trade fair.

Various activities were conducted by the organizer throughout this trade show for this year which among others includes SIAL Innovation Award, La Cuisine, Retail and Hospitality Forum, Chocolate World, The World Tea Championship, The Fresh and Match-Making System.
Exhibitors:
- 2,734 exhibitors (from 62 countries)
- 61,296 trade visitors
- 115,000 square meters of space
- 10 halls of exhibition venue
Target Visitors:
Manufacturers, importers, and wholesalers of:
- Food and drinks
- Catering technology
- Retail technology
- Suppliers of services for the catering sector
- Food retail trade and trade agencies
- Supplier of specialties and fresh convenience products
DagangHalal Activities at SIAL China 2015
DagangHalal occupied a 3X6 square meters booth at Hall W2, D100. DagangHalal booth is also located with others media partner of SIAL China 2015 and very close to the International Pavilion of Italy, Morocco, Argentina, Belarus, France, Greece, Latvia, and China.
Key Activities:
- B2B Business Matching
- Merchant Products Showcase at Hall W2, D100.
- DagangHalal Magazine (HMag) distribution at DagangHalal Booth - 1,500 copies
- HMag Packages Demonstration & Presentation
- Media Coverage for SIAL China 2015
DagangHalal Booth
The booth was cleverly decorated with the objective of showcasing the DagangHalal to be one stop solution for Halal industries. The backdrop shows the various type of service offered by the Halal industry players. There is also actual products line up by DagangHalal's merchants that were nicely displayed at the shelves showcase. It helps to attract the visitors to drop by at DagangHalal booth and most importantly to capture the attention of serious buyers for business matching.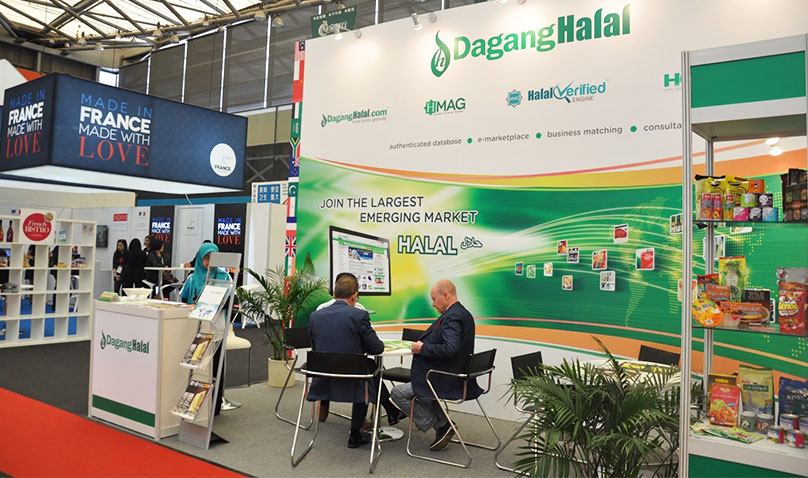 DagangHalal had also distributed 1,500 copies of HMag (SIAL China 2015 edition) to the traders and visitors for this trade fair. This magazine creates branding exposure of DagangHalal merchandiser which will then lead to more business opportunity.

Besides the B2B business matching activity, some presentation and demonstration were conducted to interested trade buyers, sellers, Halal exhibitors and visitors as well. Some are keen to have their products advertised in the HMag magazine. The HMag promotion packages are available from RMB 15,000 to RMB 32,000.