Trade Fair Overview
On 11th-13th June 2015, the 16th Malaysia Food & Beverage Trade Fair also known as MIFB was held at the KLCC Convention Centre in Malaysia, organized by Sphere Exhibits Malaysia Sdn Bhd. MIFB 2015 was endorsed by numbers of Malaysia ministries from Ministry of Science, Technology and Innovation (MOSTI), Malaysian External Trade Development Corporation (MATRADE), Ministry of Domestic Trade, Co-operatives and Consumerism (KPDNKK) among others.
MIFB 2015 Highlights
MIFB 2015 were officiated by YB Dato' Seri Mohamed Nazri bin Abdul Aziz, Minister of Tourism & Culture Malaysia on 11th June 2015. He mentioned in his speech, saying that the food & beverage industry in Malaysia are growing and have a lot of untapped potential to be discovered. The opening ceremony were attended by the organizer, media partners as well as some participating exhibitors.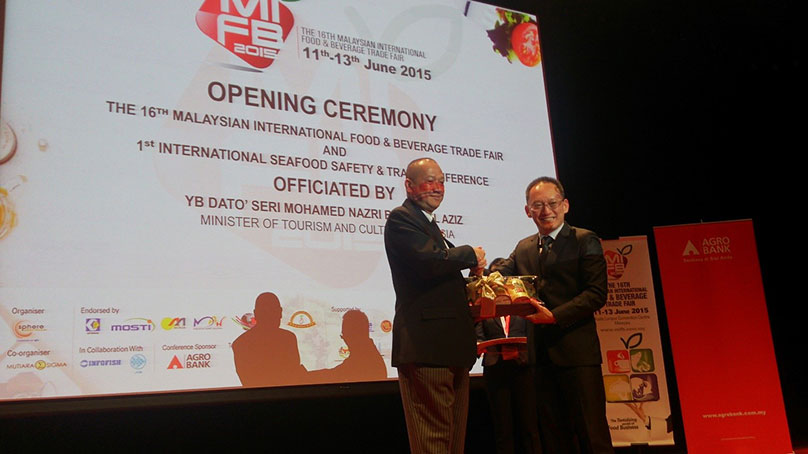 MIFB 2015 attracted more than 8,000 trade visitors from around the world. Participating exhibitors were from numerous industry including sweets & confectioneries, beverages, canned products, dairy products, food ingredients, frozen food, halal food, food technologies and machineries, food services and many more. A total of 234 exhibitors participated in this year MIFB; from Malaysia and other countries like Taiwan, Korea, Indonesia and China. These exhibitors occupied 4 halls in KLCC Convention Centre which take around 7,465 sqm.
Exhibitors:
- 234 exhibitors (from 5 countries)
- 7,465 square meters of space
Target visitors:
- Food and beverage
- Food machineries
- Trade agencies
- Supplier of specialties
- Supplier of fresh convenience products
DagangHalal Booth
DagangHalal occupy a 6x6 square feet booth in MIFB 2015. The booth was setup with a variety of DagangHalal merchant products pictures at the backdrop altogether with actual products from some of DagangHalal merchants. These beautifully setup booth attracted trade visitors to know more about DagangHalal products and services.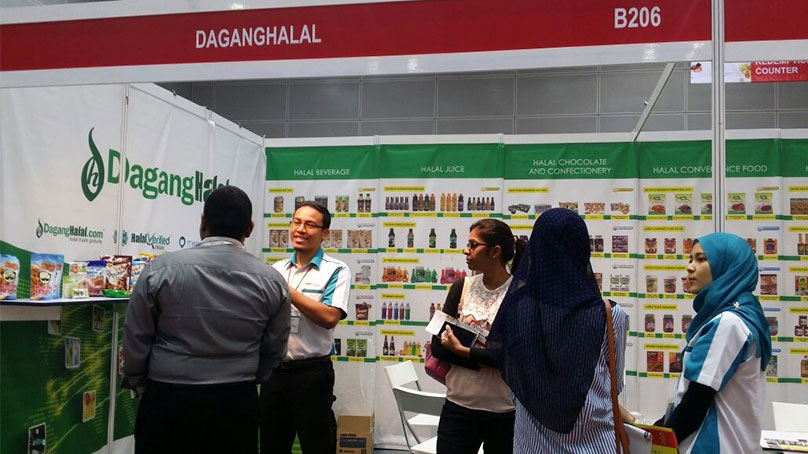 On top of that, 100 copies of HMag were distributed to all the trade visitors in MIFB 2015 for them to give insights about the current Halal trends, news and offerings. A total of 21 serious buying request from the trade visitors were collected during the 3 days trade fair. These buying requests will be posted in the DagangHalal.com portal via Halal Trade Manager.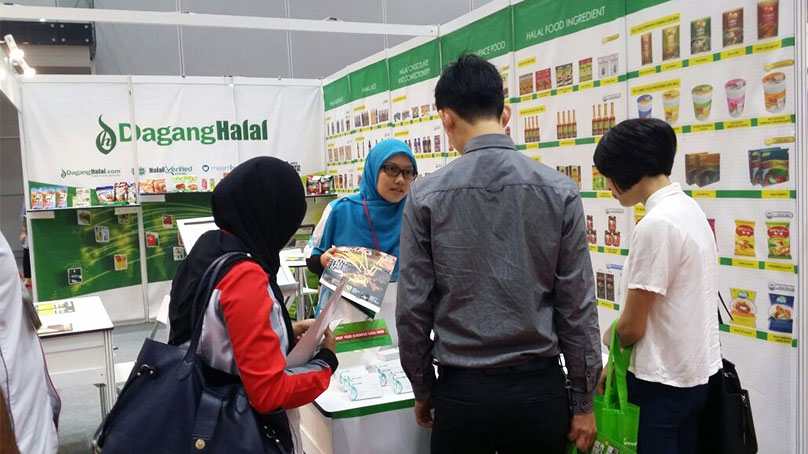 MIFB Themes:
There were 4 major thematic focuses in MIFB 2015 namely; Fisheries / Seafood, Halal products, International Pavilions, and lastly, Tea & Coffee. Among the highlights in MIFB 2015 were business matching session between industry players and buyers. On top of that, there were plenty of seminars & presentation on food business opportunities, innovation & technologies.