Trade Fair Overview
GREAT SUCCESS FOR THAIFEX - World of Food Asia 2015 held on 20th - 24th May 2015 that organized at IMPACT Exhibition Center, Bangkok, Thailand. There are more than 1,500 exhibitors from 35 countries that visited Southeast Asia, which had increased the exhibition area by 15% that covering 70,000 sqm over the four halls as compared last year (60,000 sqm). In fact, THAIFEX 2015 were hosting three specialized sub-shows, World of Seafood, World of Coffee & Tea, and World of FoodService this year.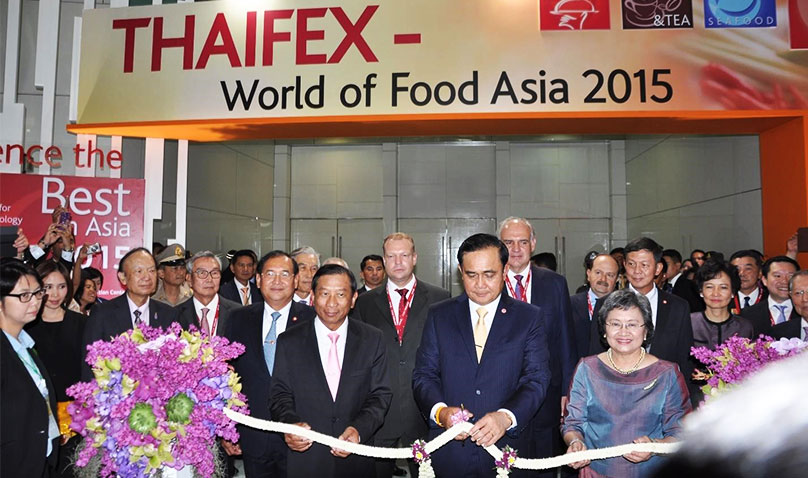 Opening ceremony of THAIFEX - World of Food Asia 2015.
With continuing support from exhibitors and visitors, the event was held successfully. The number of exhibiting companies is increasing from 1,463 to 1,675 which is 13% of increment. The total number of 1,675 exhibiting companies are made up of the overseas companies 811 (48%) and the Local Thai companies 864 (52%). Amongst the exhibiting companies, there are 144 companies that produce Halal food that joined this event in promoting their Halal quality products.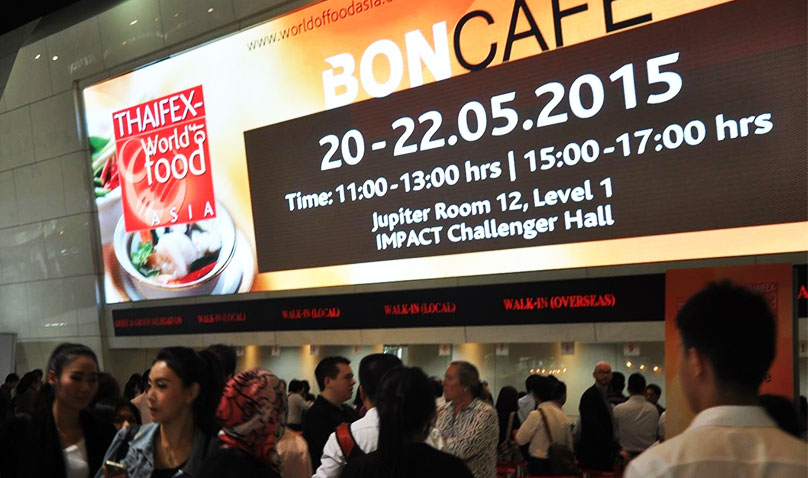 Trade visitors queue to register themselves during THAIFEX 2015.
Year by year, the numbers of visitors is increasing and it is expected that there are 32,000 number of trade visitors for this year compared to last year 2014, 30,479. Through the collaboration between the THAIFEX and the 3rd Partner Country - Turkey, it is undoubtedly that the visitors will find their right business partners in growing their business.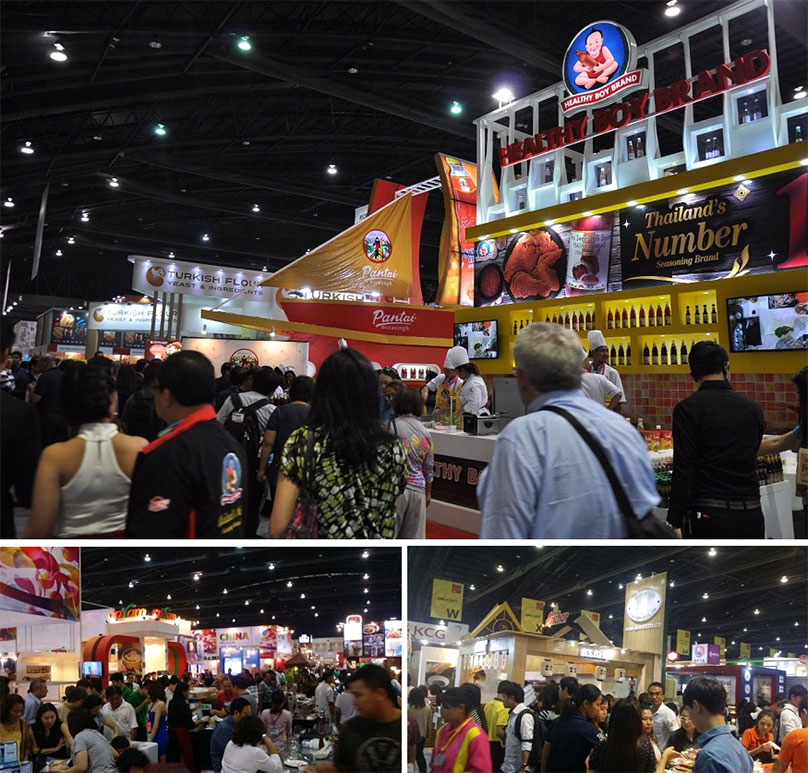 THAIFEX 2015 was crowded with many buyers.
We believe that this event is forming an ultimate platform for the exhibitors and trade visitors in business opportunity, indirectly it is developing a way for the visitors to be in line with the market trend and innovation in F&B. In addition, the event also seek a new opportunity for creating highpotential export market in achieving a sustainable economic development. It also focuses on the Halal section for displaying quality and strength of the Thailand products.

Halal Products and Thai Cuisine are showcased at the main entrance.
In view of the variety areas and sectors in F & B industry, a strong line-up of supporting programmed was formed for focused approach amidst the diverse segments such as Global Chefs Challenge, Thailand Ultimate Chef Challenge, Asian Food Franchising Forum, Boncafe Training Sessions & Celebrity Coffee Bar, Out of the Box by La Marzocco, and SCAE Certified Coffee Trainings.
Event Highlights: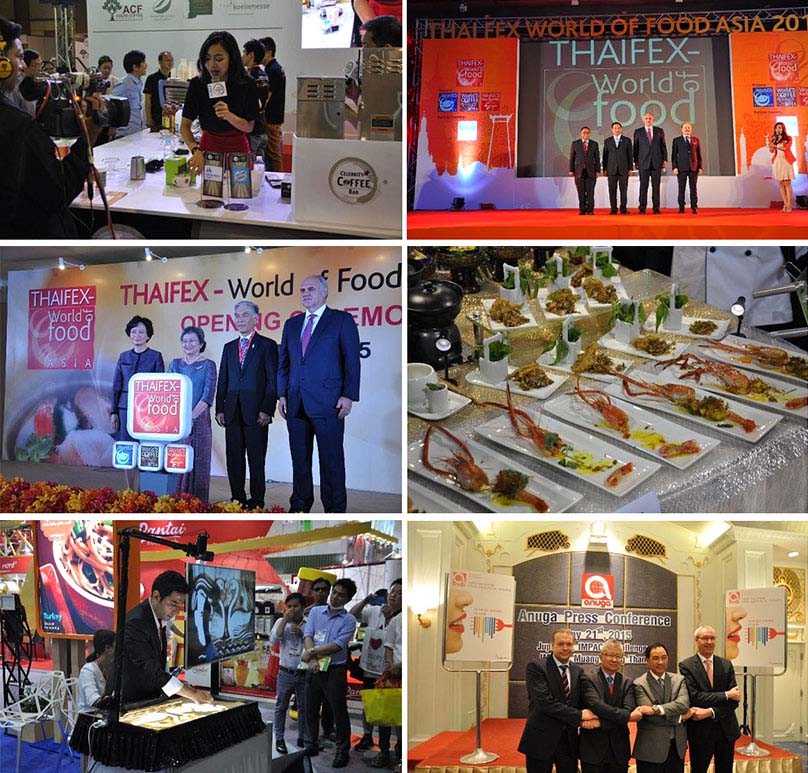 Some event highlights during THAIFEX 2015.
Exhibitors:
- 1,675 companies (811 International & 864 Thailand companies)
- Growth of 13% from the previous year.
- 300 exhibitors (World of Coffee & Tea, World of FoodService and World of Seafood)
- 35 countries represented Attendance:
- More than 30,000 trade visitors (from 125 countries)
- Floor plan 70,000 square meters
More info on
DagangHalal Role and Booth Activities at THAIFEX 2015.
Event Highlights:
DagangHalal Activities
This year DagangHalal was located at Hall 2, T-54 altogether with other International Halal exhibitors.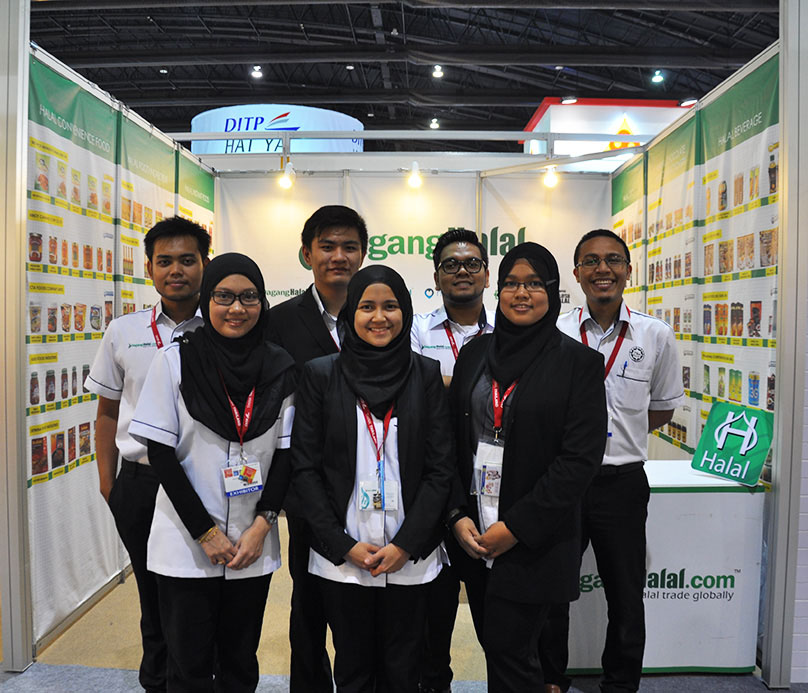 DagangHalal team during THAIFEX 2015.
DagangHalal Key Activities:
- B2B Business Matching.
- Event Coverage for THAIFEX 2015.
- Merchant Product Showcase at Hall 2, T-54.
- DagangHalal Packages Demonstration & Presentation.
- DagangHalal and HMag Selling Promotion.
- HMag Interview Coverage.
- HMag Distribution.
DagangHalal Booth Activities
There were variety of DagangHalal merchant's products whereby certain physical products are displayed at the shelves and some are printed at the backdrops. In displaying our merchant's products during THAIFEX 2015, it attracted more than 30 buying requests from the serious buyers which come from New Zealand, Turkey, China, Thailand, Singapore, and few more countries and it do fasten the buyer's decision to source for Halal products too.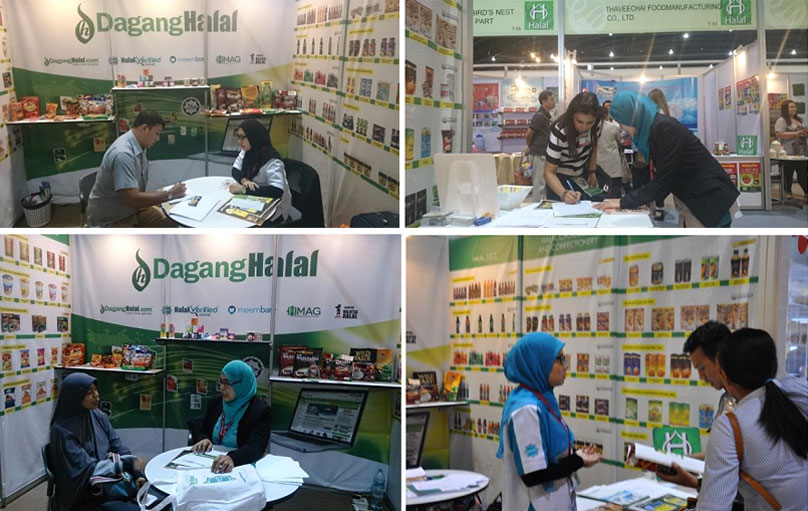 Business Matching during THAIFEX 2015.
For procedures purposes, all collected buying requests are verified by our customer services department before being transform as data into the Halal Trade Manager. It will be updated at our DagangHalal.com and buying requests will be informed to the respective merchant's (priority for Gold Merchants) in DagangHalal.com as a notification.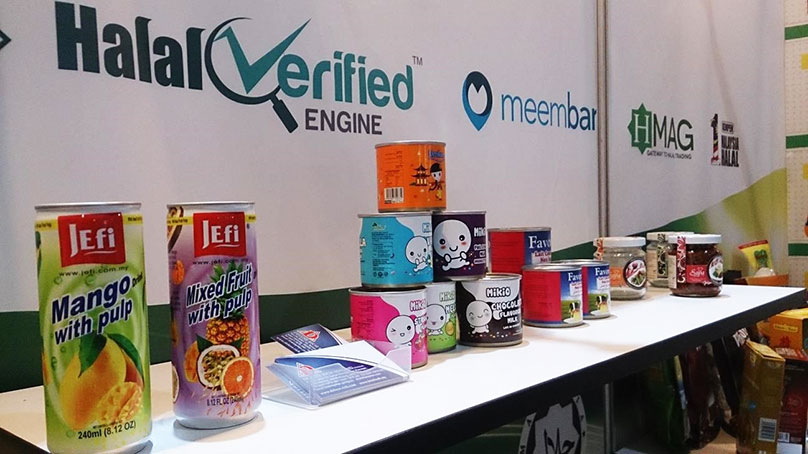 Buyers had more option on the Halal products at DagangHalal booth.
Besides that, we also distribute the Halal Magazine (HMag) to the visitors. The HMag contains information that related to the THAIFEX 2015 and few articles about Halal. Through the HMag, the buyers can easily source for the Halal products and contact the supplier for the pricing directly.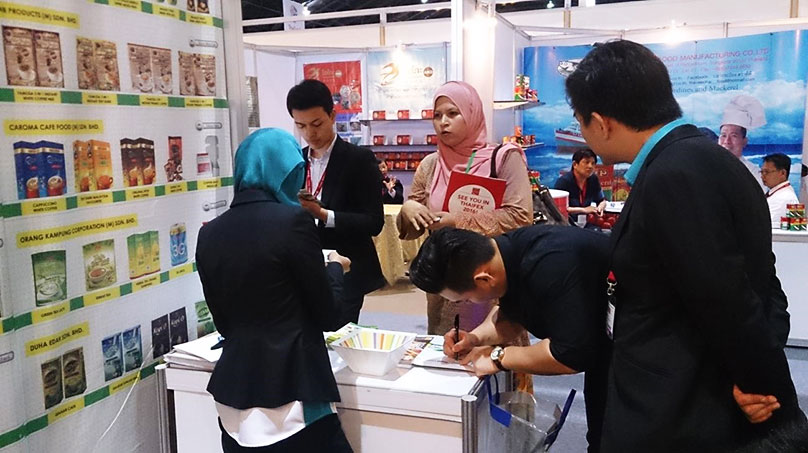 HMag distribution during THAIFEX 2015.
Within these five days in this event, 40 new DagangHalal merchants were signed up. As from the offline business matching, our Gold Merchant's product such as JEFI Marketing Sdn Bhd, Lingham & Sons (M) Sdn Bhd, NIS spice Manufacturing Sdn Bhd, Meridian Supplies (M) Sdn Bhd, VIT Makanan (K.L.) Sdn Bhd, Caroma cafe Food (M) Sdn Bhd, Deluxe rich Sdn Bhd, and MB Products (M) Sdn Bhd had successfully gain the interest of few buyers to place their buying request form.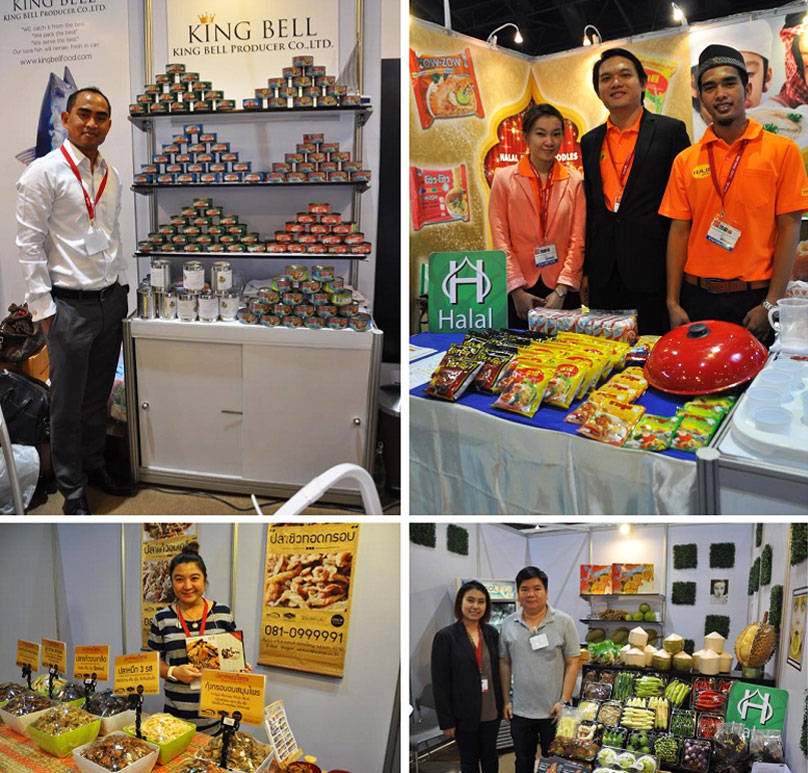 Some of our New Signup Merchants during THAIFEX 2015.